Recycling Cookie Tins: The Eco-Friendly Move You're Probably Missing
Have you been left wondering what to do with a used cookie tin? Are you looking for an eco-friendly way to dispose of it? If so, then this blog post is for you! We'll discuss the recycling options available for cookie tins, including which materials can be recycled and how.
You can now recycle your cookie tins easily and responsibly! It's easy to do, and it doesn't require any extra effort on your part. You need to make sure your cookie tins are empty, dry, and clean before you put them in the recycling bin.
With a few simple steps, you can ensure that these items don't end up in landfills but instead are recycled into new products. So don't let your cookie tins end up in the trash – recycle them!
What to Do with Your Cookie Tins
You have a few options when it comes to reusing your cookie tins. You can repurpose them into useful storage containers, turn them into decorative pieces, or even regift them with your own homemade goodies! With a bit of creativity, you can find creative ways to give your old cookie tins a new life.
For example, you can turn them into office supplies holders, jewelry boxes, and festive lanterns. So don't just throw out those cookie tins – get creative and make something unique and useful out of them!
Get Your Hand on Your Eco-Friendly Living Starter Guide!
Can You Put Them in the Curbside Recycling?
Yes, you can put your cookie tins in the curbside recycling! Steel cans and metal food tins are recyclable, but whether or not you put them in your curbside recycling pickup depends on your local recycling program.
You can find out how much you can put out by finding your collection day. That way, you'll know exactly how much of your cookie tin waste can be recycled!
Upcycling is also a great alternative to disposing of cookie tins, so don't forget to look up creative ideas for DIY projects.
Do Cookie Tins Need to Be Cleaned Before Recylcing?
Yes, it is important to make sure that your cookie tins are clean and empty before recycling them. You should always use or consume the item's contents and then ensure it is clean and empty before putting it in the recycle bin.
Steel cans and metal food tins can easily be recycled, but it is important to ensure that the tins are empty and clean before doing so. This will help to make sure that they are properly recycled and that they do not contaminate other materials.
With just a few simple steps, you can easily recycle your cookie tins in an efficient and environmentally friendly way!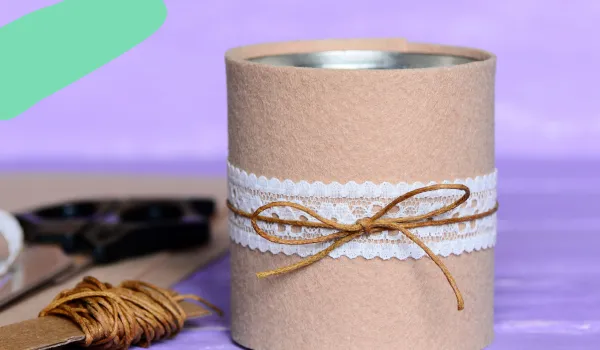 Upcycle Your Coockie Tins
Upcycling your cookie tins is a great way to reduce waste and create something unique. You can use spray paint to give your tins a new look or even decoupage them with a common theme like sports or animals.
Once you've finished upcycling the tin, you can repurpose it in a variety of ways, such as creating storage for office supplies, making a festive lantern, or even turning it into a jewelry box! With a bit of creativity and some leftover materials, you can give your cookie tins a new life and help reduce waste in the process.
Here are just a few examples of what you can do upcycling:
Create storage for office supplies
You can create the perfect storage for office supplies, like pens, paperclips, and other small items, using your old cookie tin. Just spray paint the tin in a color that matches your office décor and add adhesive letters to personalize it. You can also add cork tags to label the contents and make them even more organized. This is a great way to reuse your cookie tin while adding a touch of style to your workspace!
Turn your cookie tin into a jewelry box
You can turn your empty cookie tin into a wonderful jewelry box. It's easy to do, and it's a great way to repurpose the tin rather than sending it to the recycle center, garbage dump, or landfill. Start by making sure that the tin is empty, clean, and dry.
Then you can get creative and paint the tin or decorate it with stickers. Felt or fabric also makes a great liner for the inside of your jewelry box, and you can add dividers for extra organization.
Finally, add some handles to make it easier to carry around, and you have an attractive and practical jewelry box for your valuables.
Make a festive lantern with your empty cookie tin
You can turn your empty cookie tin into a festive lantern, perfect for adding a bit of cheer to any celebration! With just a few supplies and some creativity, you can create a beautiful lantern that will look great in any home.
Start by cleaning out the tin and then decorate it with paint, stickers, or even fabric.
Then, add some battery-operated fairy lights or candles to give your lantern a warm glow.
You can also use the same techniques to upcycle other items, such as pails and baskets! With a bit of imagination, you can turn your old cookie tins into something special.
Tips for Recycling Cookie Tins
You can easily recycle your cookie tins! Before you start using the tin, it's important to ensure that it's completely empty, squeaky clean, and completely dry before you put it in the recycling bin. If it is not empty, you can take it to a Household Hazardous Waste Depot or a Special Metal Recycling Center. You can also upcycle your cookie tins and create unique storage for office supplies or a festive lantern for special occasions.
Let's make sure that we do our part in reducing waste and protecting our environment.
Conclusion
In conclusion, recycling cookie tins is not only easy but also extremely beneficial for the environment. With a few simple steps, you can make sure that your tins are properly recycled and put to good use.
Remember to clean your tins before recycling them, and look for creative ways to reuse and upcycle them before deciding to part with them. By doing this, you're helping to reduce waste and increase sustainability.
With all this in mind, there's really no excuse not to recycle your cookie tins!
Get Your Hand on Your Eco-Friendly Living Starter Guide!