Sustainable Kitchens: 7 Amazing Ideas To Help You Level Up
Are you looking to make your kitchen more sustainable? Check out these seven amazing ideas!
Sustainable kitchens are becoming increasingly popular due to the growing awareness of their importance to our environment. Not only are sustainable kitchens better for the environment, but they can also be incredibly cost-effective.
But sustainable kitchens aren't just full of sustainable gadgets and materials, they're also filled with clever and useful tweaks that can help you use your kitchen space in a sustainable way.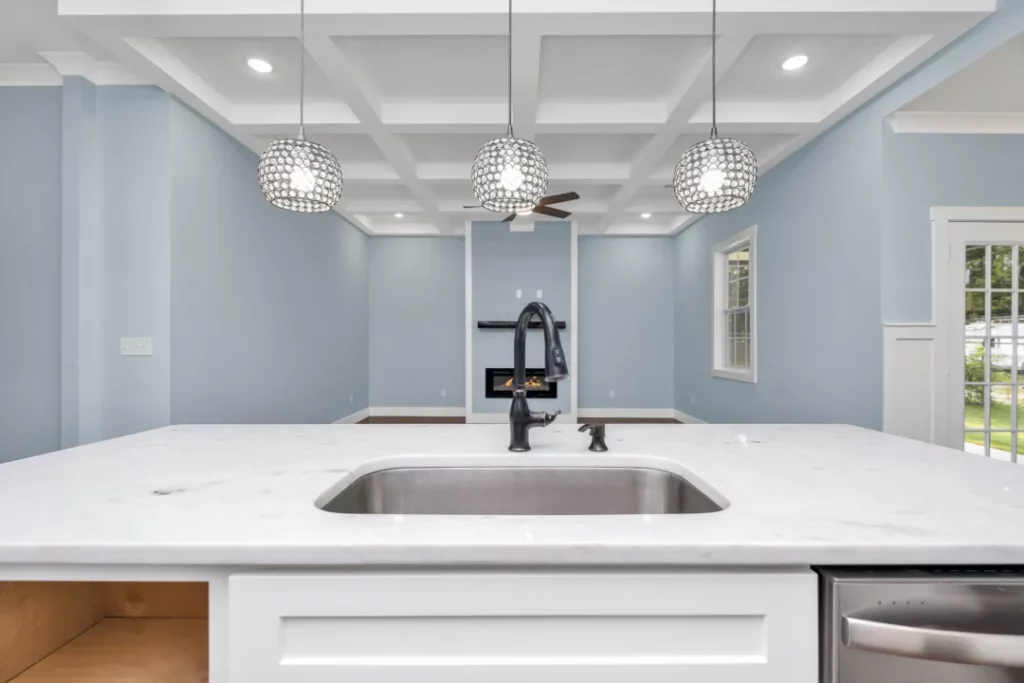 Ideas for Sustainable Kitchens
From energy-efficient appliances to sustainable countertops and cabinets, there are many exciting ideas that can help you upgrade your kitchen in an eco-friendly manner. Here are our top 7 picks:
Energy-efficient appliances
Sustainable countertops
Sustainable cabinets
Installing a water filter
Sustainable lighting
Kitchen plants
Sustainable utensils
Choosing sustainable materials for the cabinetry and countertops is a great way to ensure your kitchen is doing its part for the planet without compromising on any style or design elements. Installing a water filter and opting for sustainable lighting options can also add up to big savings over time and reduce your carbon footprint.
Get Your Hand on Your Eco-Friendly Living Starter Guide!
If you're ready to take your sustainable kitchen up another level, why not try incorporating plants for décor and aromatherapy? Let's look at each of these ideas in more detail.
Energy-Efficient Kitchen Appliances
Taking sustainable kitchen appliances into consideration is a great way to conserve energy. By investing in energy-efficient kitchen appliances, you can save yourself plenty of money in the long run.
From sustainable refrigerator options to modern ovens with programmable timers and extra settings that help you cook food more efficiently than ever before, eco-friendly kitchen appliances are available in many shapes and sizes for every budget. Make sure your next cooking session is both energy-independent and efficient by updating your kitchen with sustainable appliance choices.
Sustainable Countertops
If you want to build a sustainable kitchen and truly live green, then concrete countertops are a great option. Not only are concrete countertops stylish and distinctive, but they're also a more sustainable choice than mined granite or marble.
Concrete flooring can also be used for an interesting mix of textures and colors. Mined stones have environmental issues due to the impact of quarrying, whereas concrete's natural materials are minimally processed, unlike stone production which involves high energy output.
With concrete, you get amazing flexibility in design as it can be cast in almost any shape or size and custom-colored for your home. If sustainability is important to you, choose concrete countertops for your kitchen.
Sustainable Cabinets
With so many materials on the market today, it's hard to know which ones are truly good for the planet. It can be tricky to keep up with all of the new and improved eco-friendly alternatives.
But fear not, there are some incredibly sustainable options perfect for creating a beautiful, eco-friendly kitchen. Recycled materials are also a great choice. Wood cabinets made from certified FSC wood offer amazing durability and beauty while conserving natural resources.
Bamboo is another wonderful option that grows quickly and is one of the most recyclable materials available. You can also look into reclaimed materials like wood and wheatboard (made from of wheat straw) as great ways to get creative in your kitchen. With so many options, you're sure to find sustainable sourcing that looks great, performs well, and is also kind to mother nature.
Installing a Water Filter
Installing a water filter system in your home is an easy, affordable way to make a big difference in sustainable living. Not only does a water filter help you save on expensive bottled water, but it also reduces plastic waste while providing cleaner and better-tasting tap water.
Plus, having a filtered tap means your coffee or tea tastes better than ever before! Have you been looking for the perfect way to support sustainability? Why not install a water filter today to reduce your kitchen project's carbon footprint.
Sustainable Lighting
From energy-saving smart bulbs to eco-friendly lighting fixtures, there are plenty of ways for homeowners to upgrade their kitchens with sustainable lighting solutions. Even something as simple as replacing incandescent bulbs with LED bulbs can have a huge impact on reducing energy costs.
Motion sensors and dimmers can also help save energy by determining only the necessary amount of illumination needed. Installing solar-powered lights is an excellent way to bring natural light into the kitchen while making sure you're conserving the environment. It will feel like the sun is pouring into your home – without guilt about burning too much energy.
Kitchen Plants
Plants can be a great addition to any kitchen, both aesthetically and functionally. If you're looking for an easy-to-care-for option, consider herbs like basil or oregano. Hang them up from attractive planters or place them in cute mason jars on a windowsill for simple access and an eye-catching display.
A small aloe vera plant works for sunny spots, as it requires little upkeep and helps purify the air—plus its sap makes a great remedy for sunburns! Even without natural sunlight, bring some jungle vibes into your cooking space with hanging philodendron baskets or tall potted snake plants that don't take up much floor room.
Sustainable Utensils
Sustainable utensils have so many benefits and are becoming increasingly popular in the kitchen. Think of the environment while you whip up your favorite recipes with food-safe, reusable materials like bamboo and stainless steel.
Not only do these materials last longer than their plastic counterparts, but they also come in stylish designs that look beautiful in any room. With sustainable utensils, you can reduce waste and tread lightly on the planet – all without compromising your culinary creativity.
With so many amazing ideas available, creating a sustainable kitchen is something every homeowner should consider.
Sustainable Kitchen: A Roundup
When it comes to building a sustainable kitchen, there are endless possibilities. From going plastic-free in food storage to cutting back on energy waste with smart investments in appliances, every choice counts when aiming for eco-friendly cooking. Ultimately, the goal of a sustainable kitchen is to commit to reducing one's carbon footprint without sacrificing convenience and comfort.
This can be achieved through careful consideration of materials used in construction and décor, dietary choices, and maximal use of natural resources like sunlight and water while minimizing polluting activities, like single-use packaging or excess consumption. Whether you're totally remodeling your kitchen or just looking for ways to go green while keeping up with your daily routine, investing in a sustainable kitchen is always a safe – and rewarding – bet!
Get Your Hand on Your Eco-Friendly Living Starter Guide!