8 Eco Friendly Makeup Brushes That Work Just As Good!
Are you looking for ways to make your makeup routine more sustainable? Look no further than these eight eco-friendly…
Are you looking for ways to make your makeup routine more sustainable? Look no further than these eight eco-friendly makeup brushes available. Whether you are an everyday makeup user or a professional artist, there is something on this list to suit your needs. Keep reading to find out what the best eco-friendly makeup brush options are and why you should consider making the switch. 
Top Rated Eco-Friendly Makeup Brushes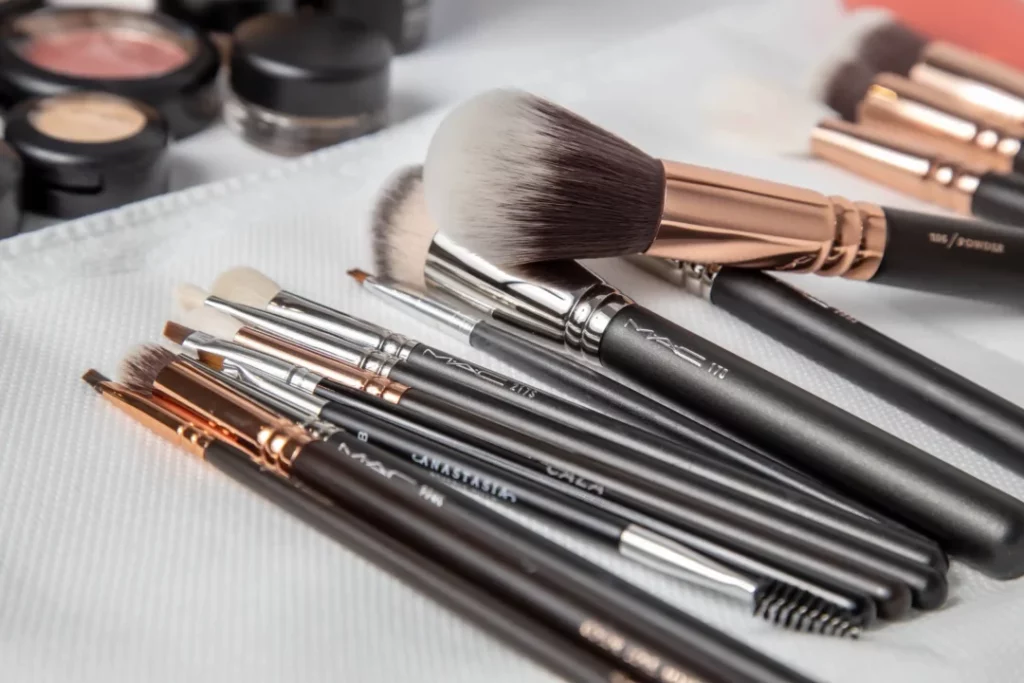 Say hello to animal-friendly makeup routines with EcoTools Cruelty-Free natural makeup brushes (6 brushes). These top-notch makeup brushes are designed with recycled materials and purposeful conservation of the environment.
The brush set is constructed with recycled aluminum, and the packaging is made from post-consumer recycled plastic and is 100 percent recyclable. The brand practices environmental consciousness, as this set includes 100 percent tree-free paper composed of 20 percent cotton and 80 percent bamboo vegan makeup brushes that are one of the fastest growing plants on the planet.
Read More: Is Biothane Eco Friendly: Your Next Dog Collar
Get Your Hand on Your Eco-Friendly Living Starter Guide!
The Bdellium Tools Professional Makeup Brush Set is a great choice for those seeking an eco-friendly makeup brush set. The brushes are made from recycled aluminum and wood handles, with the bristles being 100 percent vegan makeup brush sets and synthetic. This nine-brush set is perfect for everyday use or professional makeup artists looking to expand their kit.
Brushes included are foundation, powder, blush, concealer, lip liner/lipstick, brows/shading, highlight/contour, eyeshadow, and eyeliner – giving you all the tools you need for a polished look.
Real Techniques EcoTools Retractable Kabuki Brush is perfect for the frequent traveler or busy beauty enthusiast. This exquisitely designed brush is just what you need to take your look from 0-100 in an instant. Its retractable design keeps it compact, allowing for easy access to your favorite powders, bronzers, or blush. Smoothly blend product into skin using circular motions with Sam and Nic's reliable kabuki brush to achieve perfect results every time. 
The EcoTools kabuki brush is perfect for defining and contouring the hollows of the cheeks, filling out the cheeks with blush, and evenly applying makeup products all over your face. And since the brush is made with eco-friendly materials, you can feel good about making a sustainable purchase that benefits our planet.
Read More: Are Orbeez Biodegradable?
ACAY MODE Brush Collection has everything you need to take your glam on the go! Get creative with bold strokes using our Angle Liner Brush, or pucker up and paint it on with our super soft synthetic bristles. Create effortless all-over coverage with the always classic Flat Shadow Brush, or conceal any imperfections with the Concealer Brush. Use our Angled Shadow Brush to add contrast and definition to your look, then blend it out with our Blender Brush. Finish off with precision touches with the Detail Shadow Fluff Brush for perfect cut creases and inner corners.
The Sigma Beauty Travel Essential Trio is your perfect travel companion! This lightweight set of three brushes provides a full-sized brush head, so every application looks just perfect while staying skin-safe and hypoallergenic. With professional makeup brush fibers being vegan, you can trust that they'll minimize product absorption while still achieving flawless results.
Highlight, shade, and contour with greater precision and a smoother, even finish each time – no matter the product you're using or the occasion that you're using it for. Plus, the Brush Tin makes taking it with you on the go a breeze! Get your hands on the must-have makeup brush set today for effortless all-day wear.
Read More: 5 Best Eco-Friendly Alternatives To Latex Gloves
EcoTools My Perfect Eyes brush set is the perfect choice for any makeup enthusiast. With five different brushes, you can create natural-looking eyeshadow and blend to perfection. The vegan synthetic bristles are soft, gentle on the skin, and reduce product absorption while still achieving flawless results every time.
Plus, each piece in this set boasts a sustainable bamboo handle with post-consumer recycled plastic packaging – making it an eco-friendly option! Get your hands-on collection of brushes today for professional eye makeup application.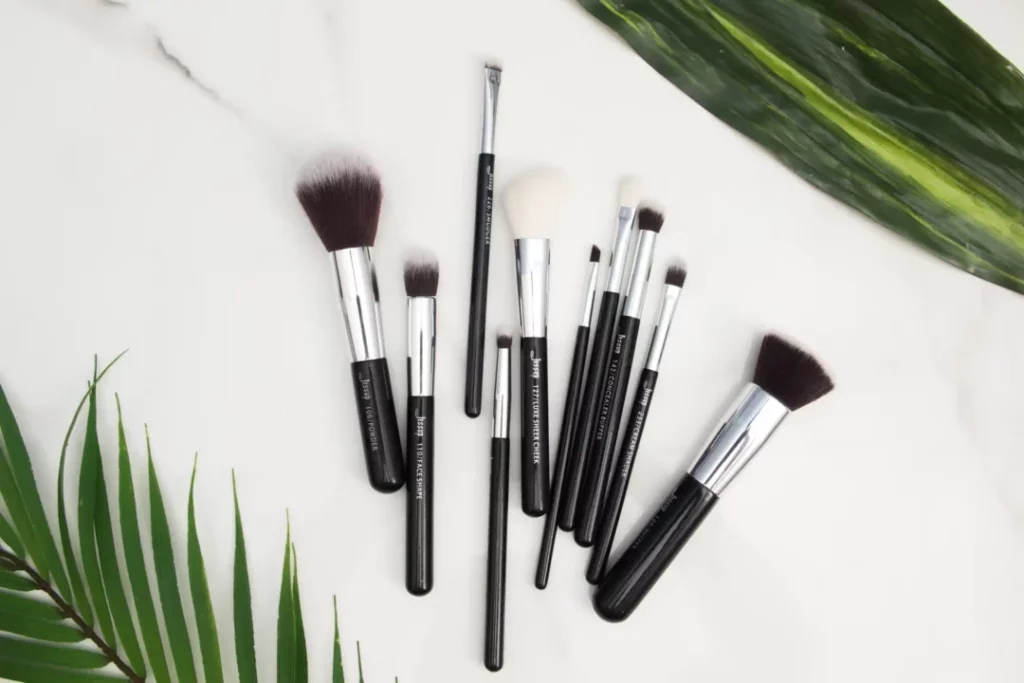 With the Makeup Brushes BS-MALL Premium collection, that's exactly what you can expect! With a variety of brush styles and sizes, you'll be able to contour and highlight every face shape with ease. Plus, they're made with durable synthetic fibers that are soft, luxurious, and easy on even the most sensitive skin.
This 14-piece collection covers all your needs when it comes to creating stunning looks. From blending brushes and eyebrow brushes to eyeshadow brushes and more, you'll be able to create showstopping makeup like a professional makeup artist! And because these Makeup Brushes BS-MALL Premium are vegan, cruelty-free, and long-lasting for daily use, this set is also the perfect gift for beauty beginners or enthusiasts alike.
Read More: Eco-Friendly Vs Environment Friendly: The Difference
The Aesthetica Cosmetics Travel Makeup Brush Set has everything you need to create gorgeous looks on the go. This set of 5 brushes comes with a powder brush, an eyeshadow brush, an eyeliner/brow brush, a blending brush, and a concealer/lip brush – all in one handy case for convenient storage and travel.
Plus, each of these brushes is made from ultra-soft vegan fibers that are gentle on your skin while still delivering precise application every time. Get your hands on this amazing set today for perfect makeup wherever you go.
Wrap Up
No matter your preference for makeup brushes, you can rest assured that there's something out there to meet your needs. Whether you prefer cruelty-free vegan products or are looking for a travel set that has everything you need in one convenient package, we've got it all covered. You don't have to sacrifice quality and performance when it comes to finding the perfect makeup brush; just take a look at the selection today and find the perfect set for you!
With these fantastic options, creating stunning beauty looks is easier than ever before. Get ready to show off your flawless style with any of these impressive makeup brush sets.
We hope this guide helps you find the right makeup brush set that meets your needs. Happy shopping!
Get Your Hand on Your Eco-Friendly Living Starter Guide!