Discover The 13 Best Zero Waste Loose Leaf Tea Brands
Explore top eco-friendly tea brands offering loose leaf options for a zero waste lifestyle.
Are you looking for a delicious and sustainable way to enjoy your tea? Check out our list of the best zero-waste loose-leaf tea brands! These brands use sustainable packaging and produce minimal waste. Plus, their teas are absolutely delicious!
What is zero waste tea?
Zero waste tea is made from compostable materials and is packaged in a way that minimizes waste. For example, some brands use compostable tea bags and packaging that can be composted or recycled. Others sell their tea in bulk, which helps to reduce packaging waste. And some companies donate a portion of their profits to organizations that work to reduce pollution and waste. Many of the zero-waste tea companies also have compostable packaging, and all make sure to use organic ingredients.
What are the disadvantages of using traditional tea bags?
The main issue with tea bags is that they are usually made of plastic, which means you can't brew tea without drinking plastic.
In a study called "Plastic Teabags Release Billions of Microparticles and Nanoparticles into Tea" which was published by the American Chemical Society, it was found that brewing tea at the standard temperature of 95 degrees Celcius releases more than 11.5 billion microplastics and more than 3 billion nano plastics into the cup. Not necessarily what you had in mind when you reached for an Earl Grey!
Get Your Hand on Your Eco-Friendly Living Starter Guide!
Plastic is used to make teabags since it keeps the bags closed when they are put in hot water. Scientists have linked polypropylene, a type of plastic used by most manufacturers, to problems with the endocrine system and reproductive systems of women.
How does tea production impact the environment?
Tea is one of the most popular beverages in the world, and its production has a significant impact on the environment. Most tea is grown in tropical and subtropical regions, where the climate is hot and humid.
This type of weather is ideal for tea plants, but it also creates conditions that are favorable for pests and diseases. As a result, tea growers often rely heavily on pesticides and fungicides to protect their crops.
These chemicals can pollute waterways and harm local wildlife. In addition, the clearing of land for tea plantations can result in deforestation and soil erosion. As demand for tea continues to grow, it is important to be conscious of the environmental impacts of its production.
By choosing to purchase organic or sustainably-grown tea, we can help to lessen the negative impact on the environment.
How are sustainable tea brands different?
Sustainable tea brands are those that are environmentally conscious and use sustainable practices to grow their tea. This means that they avoid using pesticides and other harmful chemicals in their tea growth process.
Instead, these brands use organic methods to promote healthy tea growth. This includes using natural pest control methods, such as companion planting, and avoiding monoculture practices.
In addition, sustainable tea brands often support small-scale farmers and Fair Trade initiatives. As a result, they are able to provide their customers with a high-quality product that is also ethically sourced.
When you purchase sustainable tea, you can be confident that you are supporting a brand that is working to protect the environment.
Of the Brands Making Zero Waste Tea, My Favorite is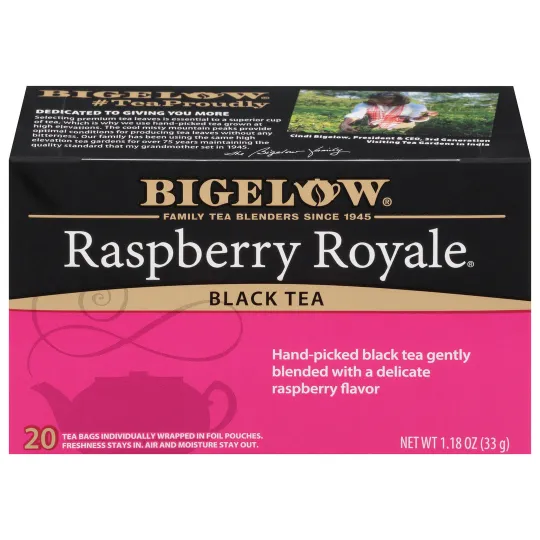 Bigelow
Raspberry Rovale® Black Tea
The way the raspberry notes hit you on each sip is something quite spectacular. Other than the amazing taste and variety of flavors I love how their business is run.
The 13 best zero waste tea brands
If you're looking for a delicious and sustainable way to enjoy your tea, check out our list of the 13 best zero-waste tea brands! These brands use sustainable packaging and produce minimal waste. Plus, their teas are absolutely delicious!
Organic India
Organic India sells organic teas, as the name suggests, but the company goes even further by using regenerative and biodynamic farming. Their facility is Platinum Certified by LEED, which stands for Leadership in Energy and Environmental Design. One unique thing about their business is that they work with both Western & Ayurvedic physicians to produce teas that are good for people's health and good for the environment.
Their biodegradable tea bags are constructed from unbleached paper, and you can also purchase loose tea in a metal tin that you can reuse.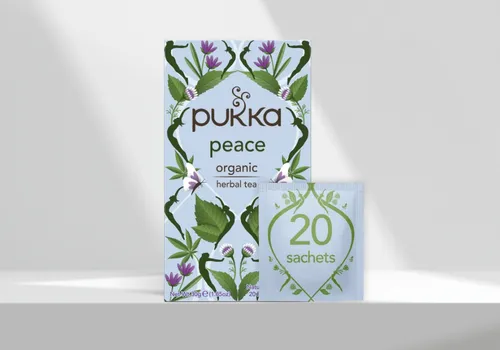 Pukka Herbs
One of the leading companies in the organic tea and supplement industry is Pukka Herbs. Their herbal teas are made from practitioner-grade, organic herbs, and their packaging is entirely zero waste. Pukka has long-term partnerships with organic growers in over 20 countries, and their products are certified by several organizations, including the Soil Association Organic and Fair for Life.
In addition to being cruelty-free, their cosmetic products are also certified by Leaping Bunny. The brand's plastic-free tea bags are even home-compostable. As members of 1% for the Planet, Pukka supports various eco-minded nonprofits such as TreeSisters.Arbor Teas
Sacred Blossom Farm
Sacred Blossom Farm is doing amazing things to reduce waste and pollution. Their organic, biodynamic farming practices are helping to protect our environment and our food supply.
They are reducing the use of harmful chemicals and relying on natural resources to grow their crops. By mimicking natural systems, they are able to produce high-quality products without harming the environment.
Their practices include minimal tillage, innovative inter-seeding strategies and cover cropping. These techniques help to maintain soil fertility and prevent erosion.
By growing organically, they are also helping to preserve biodiversity. They are working to mimic natural systems and encourage healthy ecosystems.
This is just a small sample of the great work that Sacred Blossom Farm is doing. You should definitely check out their website if you'd like to find out more about their practices.
Numi Eco Tea
NUMI makes great zero waste tea products. Their tea bags are biodegradable and compostable, which is awesome because we don't really have any options for compostable tea bags right now. 85 % of their packaging is made from post-consumer waste.
Plus, their tea bags come in a variety of flavors and are available in bulk sizes. Numi is committed to ethical sourcing and supply chain practices. They work closely with farmers who use regenerative farming methods and visit the farms regularly.
They also support farmers who use fair labor practices. Their tea bags are made from sustainable materials and are packaged using eco-friendly processes. They also donate 1% of their profits to environmental causes.
Numi is climate neutral certified, and the Numi foundation supports communities both locally and abroad with programs, including emergency food aid and clean water projects.
Yogi Tea
Yogi Tea are making a big splash in the world of zero waste tea. Their products are 100% plastic-free, non-GMO, and USDA-certified organic. All of their teas are packaged in recyclable boxes and compostable tea bags.
You can even toss the empty packaging right into your compost bin after finishing your cup of tea. They also use organic rooibos leaf from Rainforest Alliance-certified farms in seven of their tea blends.
These certified farms protect wildlife and natural resources, safeguard worker rights, and support sustainable agriculture practices. Products with the Rainforest Alliance Certification seal help conserve wildlife and nature, along with safeguarding human rights and well-being.
There are so many tea blends available at Yogi. I highly recommend their pure green tea because it wakes me right up in the morning and tastes delicious! You can also enjoy their yummy chai blend, which is chock full of antioxidants and caffeine.
Each organic tea box comes with an inspiring yoga pose to try. And there's always an inspirational message on the paper tag inside the box. These messages encourage us to live our lives with mindfulness and gratitude.
Not to mention, each box comes with a reusable straw and a reusable travel mug. If you're not already a fan of Yogi, I think you'll fall head over heels for their zero waste lifestyle.
Rishi Tea
Rishi Tea is independently owned and is a direct trade importer of organic teas and botanicals. They are committed to sustainability and source their tea and botanicals from organic farms & gardens.
Rishi Tea was one of the first companies to earn organic certification from the USDA in 2002. The company's Direct Trade program allows for the traceability of each lot back to the farm where it originated.
The best part about Rishi Tea is its tea sachets. They offer a specialized filter mesh tea sachet made from a plant-based material (polylactic acid) that helps yield a far greater extraction ratio and infusion quality than any other tea bag.
Choice Organic Tea
Choice Organics Tea produces high-quality organic teas from around the world. Their process starts with organic farming and is followed by harvesting and selection of the best teas and herbs for each blend. The ingredients are then processed to bring out their full flavor, and carefully blended for balance. Finally, the teas are packed into natural fiber, plastic-free tea bags and shipped in recycled cartons.
Their teas are certified USDA Organic, Non-GMO Certified. The company is also B Corp Certified and is part of the Ethical Tea Partnership.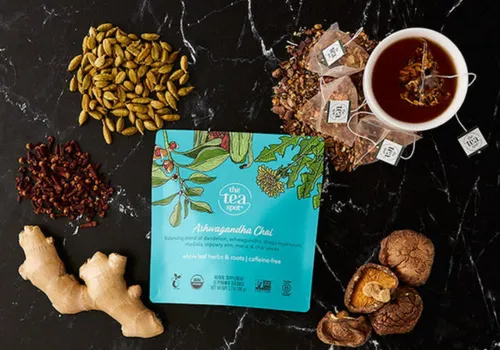 The Tea Spot
The Tea Spot is another great zero waste brand of tea. They offer loose leaf tea and pyramid-shaped zero waste tea bags.
Their tea bags are made from recycled polyethylene and come in a variety of flavors. Each bag has a unique shape and design, allowing you to customize your tea-drinking experience.
All of their teas are certified organic and fair trade certified.
They also have a commitment to supporting local farmers and protecting the environment.
I love how they package their tea bags. It makes them easy to grab when I'm on the go. Plus, they don't require any extra equipment to brew my tea.
The Tea Spot also offers a wide selection of accessories, such as reusable cups, mugs, and travel mugs. If you're looking for a new way to enjoy tea, check out The Tea Spot.
Bigelow
Bigelow Tea is a Certified B Corporation that is committed to the environment, as reflected in the many energy conservation and waste reduction steps they have implemented.
They are 100% renewable energy certified, 95% zero waste to landfill, and compost 80 tons per year. Solar panels at their HQ generate 870 kilowatts of power.
They have also preserved 347 acres. And all of their boxes are recyclable. Green-e® has certified that Carbon Footprint Reduction for 286 homes has been achieved by Zero Scope 2 Emissions through solar panels and the purchase of renewable energy credits.
All of this means that when you buy Bigelow Tea, you are supporting a company that is working hard to be sustainable and responsible. So why not make the switch to Bigelow Tea today? You'll be supporting a great company and doing your part for the environment.
Young Mountain Tea
Young Mountain Tea is BRING Certified. Since 2013 they have helped offset 161,805 lbs of CO2! They partner with farmers in North India and are in the works of setting up a new factory in the Kumoan village of Champawat. They have made tremendous strides in hiring more women, and they can now boast that 90% of their tea farmers are women.
The owners of Young Mountain Tea have gone as far as to partner directly with farms in the Himalayan regions of:
Kumaon
Assam
Nepal
Darjeeling
Nilgiris
Buddha Teas
Buddha Teas offers a variety of teas that are nourishing for the soul and pleasing to the senses. All of their teas are 100% unaltered, organic and wildcrafted, with the freshest herbs and tea leaves. The team is knowledgeable and provides customer education resources throughout the site, making every purchase a rewarding experience.
The company has a "Tea for Trees" campaign, which works with the National Forest Foundation to help plant 50 million trees. The soft, glossy finish on the boxes comes from an aqueous coating that is water-based and easily recycled. 
The printing is done with soy-based ink instead of petroleum-based ink, which is biodegradable. The tea bags are made from 100% bleach-free paper. Every box in the tea line has been made using cost-effective and environmentally friendly recycled paper.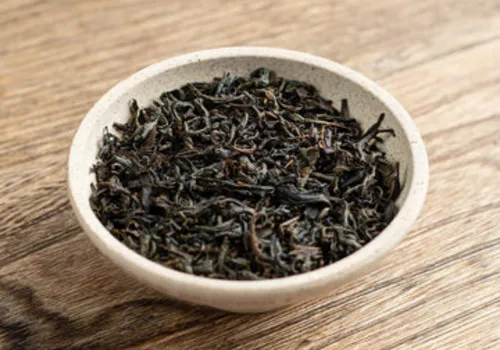 Rare Tea Co
The Rare Tea Company is an independent company based in London, UK. They aim to benefit both the farmers who craft its loose-leaf tea and the customers who drink it.
It does this by sourcing for quality over price, buying direct from farmers, and building long-term relationships with them. Rare Tea also travels the world to seek out the best tea and find routes to market for farmers across the globe.
Its goal is to help tea gardens flourish like vineyards and for customers to appreciate loose-leaf tea like fine wine.
They no longer work with Fairtrade organizations instead, they have more of an impact by directly working with the farmers. They return a percentage of our revenue to Rare Charity supporting educational scholarships on our partner farms. 
The Tao of Tea
The Tao of Tea is a pure-leaf company that was started in 1997 and is part of the Fair Trade and Organic Movement. A big part of their focus is to be socially conscious in how they do business and, for that reason, purchase their teas at above-market prices.
All of the teas offered by the company are in their original form without any artificial flavors, additives, or preservatives. They value tea as an art form and works to secure exceptional-tasting leaf each season.
Common questions regarding zero waste loose leaf tea
Is loose leaf tea better for the environment?
Yes, loose leaf tea is better for the environment because it generates less waste. Tea bags are often made with plastic or non-biodegradable materials, which means they can take hundreds of years to decompose. Loose leaf tea can be composted, making it a much more eco-friendly option.
What are some of the benefits of drinking loose leaf tea?
Loose-leaf tea has many benefits, including being richer in antioxidants and containing less fluoride than tea bags. In addition, loose-leaf tea allows you to control the strength and flavor of each cup.
What to do with expired loose tea leaves?
You can compost them! Loose leaf tea is a great addition to any compost pile. The leaves will break down and provide nutrients for your
What is the best zero waste loose leaf tea brand?
All of the brands listed above are great options for loose leaf tea that are low waste and environmentally friendly.
What are some of the benefits of drinking loose leaf tea?
Loose leaf tea has many benefits, including being more fresh and flavorful than traditional teabags. It is also more environmentally friendly since it creates less waste.
How can I make my own loose leaf tea?
Making your own loose leaf tea is easy! All you need is a teapot or infuser and some fresh, high-quality tea leaves. Simply add the leaves to the pot or infuser and steep in hot water for 3-5 minutes. Enjoy!
Conclusion
These are just a few of the amazing zero waste loose leaf tea brands out there. By choosing to drink loose-leaf tea, you're not only doing your part to reduce waste, but you're also enjoying a fresher, more flavorful cup of tea. So what are you waiting for? Start sipping!
Get Your Hand on Your Eco-Friendly Living Starter Guide!